YZPST Impulse / Ignition capacitor Brief
1. Product Usage
This product is mainly used to impulse voltage generator ,impulse voltage divider, hvdc equipment and discontinuous pulse device and so on.
2. Product features
2.1 The capacitors have characteristic of high voltage resistance.
2.2 The capacitors dv/dt ratio is large,Bear transient heavy current and HV impulse without capacitance loss.
2.3 Filling Benzyl toluene or PEPE insulating oil impregnation,it has good heat dissipation performance and excellent low temperature resistance.
2.4 Good sealing performance and high security.
2.5 Low dissipation and long life-time,bear more than 106 times charging and discharging
2.6 Aluminium housing,good look,small size, light weight, and easy installation and etc.
3. Fit conditions
3.1 Under natural air to cool down: The maximum temperature of the operating capacitor housing is 70℃
3.2 Elevation:≤1000m
3.3 Relative humidity:≤95%
3.4 No strong metal corrosive steam or air in the surrounding.
3.5 No intense mechanical shaking, no explosion or inflammable materials.
3.6 Installation should avoid high magnetic field.
4. Technical parameter
4.1 Referenced Standard: JB/T 8168-1999 Impulse capacitor and direct current capacitor.
4.2 Voltage range: 2kVDC-6.3kVDC.
4.3 Capacitance range: 0.22~10µF.
4.4 Capacitance tolerance:±5%,±10%.
4.5 Loss angle tanδ(1kHz):≤0.0003.
4.6 Insulation resistance : C≤1µF R≥3000MΩ;C>1µF RC≥3000S.
4.7 Terminal test voltage UTT: 1.2UN ~1.5UN ,10s.
4.8 Voltage between terminal and housing UT-case:2× +1000V,50Hz,10s( = )
4.9 Housing: Cylindrical aluminum housing.
4.10 Sealing test: No leakage in 4 hours under rated temperature of 75℃±5℃ .
4.11 Discharge test between terminals: 1.1 voltage,10s bear 20 times DC charging and discharging in polarity, Without breakdown and capacitance loss.
5. Dimension and parameter
5.1 Double flat plug type impulse/ignition capacitor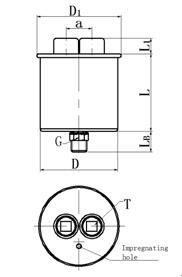 Capacitance

(μF)

Imax(A)

Î(A)

Is(A)

Size(mm)

D

D1

L

L1

LB

a

G

Terminal(T)

UN=2kVDC Û=2.2kVDC US=2.6kVDC UTT=1.2~1.5UNDC,10s

0.22

10

150

450

50

53

55

12

12

20

M8

6.3*0.8

0.47

10

200

600

50

53

55

12

12

20

M8

6.3*0.8

1

10

260

780

50

53

75

12

12

20

M8

6.3*0.8

2

10

300

900

50

53

110

12

12

20

M8

6.3*0.8

4

16

360

1000

60

63

110

12

16

20

M12

6.3*0.8
Capacitance

(μF)

Imax(A)

Î(A)

Is(A)

Size(mm)

D

D1

L

L1

LB

a

G

Terminal

(T)

UN=3kVDC Û=3.3kVDC US=3.9kVDC UTT=1.2~1.5UNDC,10s

0.22

10

160

480

50

53

55

12

12

20

M8

6.3*0.8

0.47

10

220

660

50

53

55

12

12

20

M8

6.3*0.8

1

10

300

900

50

53

75

12

12

20

M8

6.3*0.8

2

10

330

980

50

53

110

12

12

20

M8

6.3*0.8

4

16

420

1250

60

63

110

12

16

20

M12

6.3*0.8

6

16

530

1600

60

63

110

12

16

20

M12

6.3*0.8
Capacitance

(μF)

Imax(A)

Î(A)

Is(A)

Size(mm)

D

D1

L

L1

LB

a

G

Terminal

(T)

UN=4kVDC Û=4.4kVDC US=5.2kVDC UTT=1.2~1.5UNDC,10s

0.22

10

170

510

50

53

55

12

12

20

M8

6.3*0.8

<

Mr. JOHN CHANG

 Tel:86-514-87782298

 Fax:86-514-87782297

 Mobile Phone:+8613375278321

 Email:info@stt.tm

 Address: 3rd Floor, Weiheng Building No.20 B Area, Yangzhou, Jiangsu,China, Yangzhou, Jiangsu